13
Jul
Mango Cake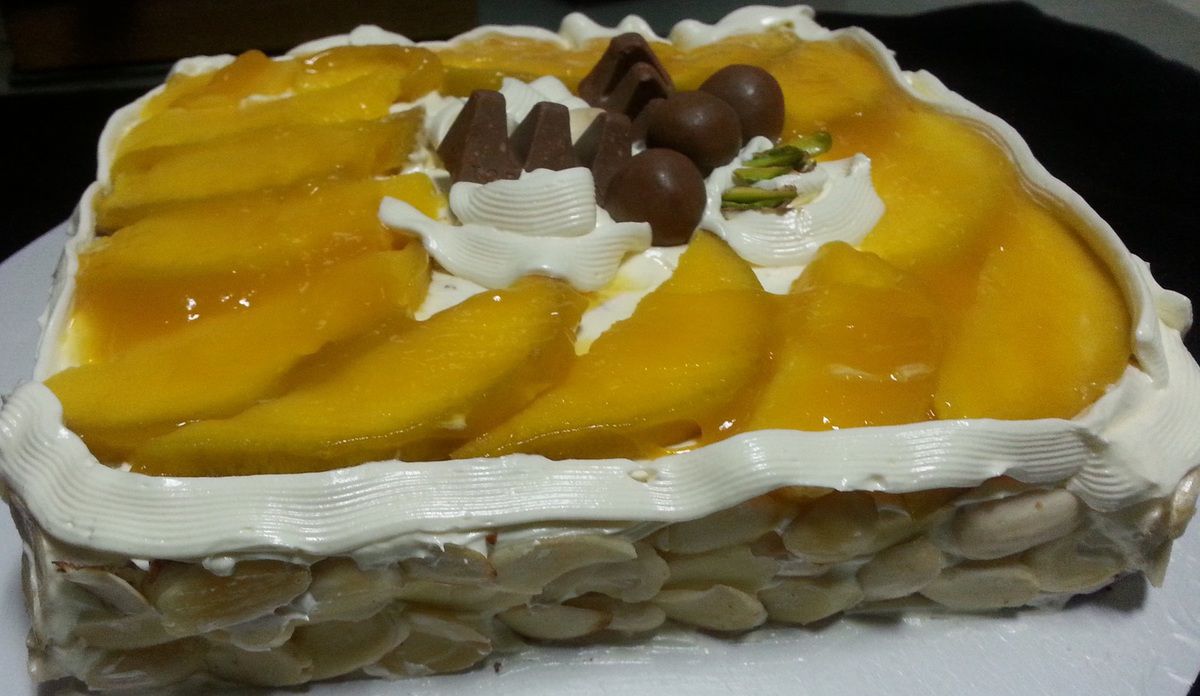 Ingredients
Sugar - 1 cup
Yogurt – 1 ¼ cup
Baking powder - 1 tsp
Baking soda – ½ tsp
Vegetable oil - ½ cup
Vanilla essence - 1 tsp
All purpose flour - 1 ¾ cup (sifted)
Milk – 1 tbsp
Method
Grease a backing tray& Keep it ready.
Beat sugar and yogurt till well combined. To this add baking powder and baking soda and mix well. Keep this aside for about 6 – 8 minutes.
Add vegetable oil and essence to this and combine well. Add the sifted all purpose flour little by little and combine well. Pour this mixture to the cake tin and spread it evenly.
Preheat the oven to 200 degree and bake it for about 30 minutes. Take the cake tin out of the oven and brush it with milk. Again bake it for about 5 – 10 minutes at 180 degree (till a wooden skewer inserted at the center of the cake comes out clean). Take it out of the oven and allow to cool .
For the Icing:
Ingredients
Whipping cream - 1 cup (cooled)
Powdered sugar - 2 tbsp
Vanilla essence - ½ tsp
Method
Take the whipping cream in a chilled bowl. Place a bowl of ice cubes below the bowl of whipping cream. Whip the cream well. Just before soft peaks are formed, add powdered sugar, condensed milk and vanilla essence and whip till soft peaks are formed. Cool it in the refrigerator covered.
For the Topping and Glaze
Ingredients
Fresh mangoes – as required
Almonds – ½ cup (soak it in water for about 5 – 6 hours)
mango juice – ½ cup
Sugar – ¼ cup
Corn flour - 1 tbsp
Chocolate bars and balls – to garnish
Method
Carefully remove the skin of mangoes and cut to thin slices. Keep it ready.
Blanch and sliver the soaked almonds. Roast it till golden and keep it aside to cool.
In another pan combine together mango juice, sugar and corn flour and bring to boil over medium flame stirring continuously. Reduce the flame and cook for another 2 minutes. Remove from the flame and let it cool for about 10 – 15 minutes at room temperature. This is the fruit glaze.
Place the sponge cake on the cake board, sprinkle fruit glaze all over, cover the top and sides with the whipped cream (reserve some cream for piping the sides). Give border for the cake with the remaining whipped cream with the help of an icing bag.
Top it with sliced mangoes. Glaze the mango pieces with the prepared fruit glaze with the help of a pastry brush. Cover the sides of the cake with roasted slivered almonds. Garnish with chocolate bars and balls. Cool it for about 2 hours. Serve.